If there's one problem with nude beaches, it's that you can't control who actually takes off their clothes. Also, sand gets everywhere. Even so, they're still better than regular beaches by virtue of one simple fact — they have naked people.
As we've already shared our favorite nude beaches in the US (and then, again, in the Bay Area) and outlined the rules of nudist resorts, here's our list of the 15 most sizzling seaside spots around the globe to soak up the sun, au naturel.
 Leucate Plage, France
Mediterranean coast, north of Perpignan
This superb bare beach has 1 km of fine golden sand, the classic Mediterranean beach. The water is normally calm and the shore shelves gently into the sea making it popular with families. Three naturist resorts share the coastline but the beach is open to all and there's plenty of space for first-time skinny-dippers and lifelong nudists alike.
Playa Es Pregons Gran, Balearic islands
Go north from Perpignan on the main N9 and turn right on to the D83, signposted Port Bacares. After 9 kms turn left on to the D627, drive through Port Leucate and the bare beach is on the right. Park on the road – easy public access between Aphrodite Village and Club Oasis, the naturist resorts.
Majorca south coast
This wonderful little bare bay has a perfect crescent of fine yellow sand, washed by a sea so transparent it looks more like the Caribbean. There are no beach bars so bring your picnic and drinks. It's the jewel in the crown of the popular Es Trenc beach area.
The route to the beach is a pleasant 15 minute walk along the shore, heading north from the resort town of Colonia Sant Jordi. Start at the Hotel Marques Del Palmer, and it's the third bay along. The fourth bay, if you walk further, also happens to be a bare beach, part of the much larger Es Trenc beach.
 Haulover Beach, Florida USA
Sunny Isles, north Miami
Situated in the south of the 'Sunshine State', this bare sandy beach has a huge following of visitors from across the globe. With glorious weather for most of the year and the vibrant city of Miami on the doorstep, it's not difficult to see why. The bare area is more than 800 yards long and has its own lifeguards and unobtrusive police patrols. Refreshments, sunbeds and umbrellas are available.
The beach is at Haulover Beach Miami-Dade county regional park, on Collins Avenue (A1A), just north of fashionable Bal Harbour. There is a large car park ($5) right by the beach.  Read more about visiting Haulover (nude) Beach in Florida.
 Vera Playa, Spain
Costa Almeria
This is Spain's capital of bare bathing. The long wide sandy beach is popular in summer and has a big choice of naturist accommodation. Beach bars, sunbeds, pedalos and yes, if you really want to try the naturist cliché, beach volleyball are all available. Almeria has the hottest and driest climate in the country, so the beach season is almost year-round. Most European nationalities park their bottoms here, giving it a cosmopolitan and friendly atmosphere.
Take the coast road north from Garrucha, through Puerto Rey, and Vera Playa is well signposted after a further 1.5 kms.
 Banana Beach, Greece
Skiathos, near Koukounaries, on the south-west coast.
Banana beach is the collective name for three lovely sandy bays well loved by nude bathers. Before you ask, the name refers to the fact the beaches are yellow and curved. View photos of sunbathers at this beach here.
During peak season bare bathers mainly use Little Banana, one of the smaller coves, as clothed holidaymakers descend on the main beach. Little Banana is often called the best bare beach in Greece, although there is plenty of competition for the accolade. There is a bus terminus and car park at the end of the Koukounaries road, coming from Skiathos town. The footpath to Banana takes 15 mins through olive groves.
 Valalta, Croatia
Istria, near Rovinj
If you feel the need for a truly naked de-stress, Valalta is everything you could wish for. It's so good the nudist campsite here was voted the best in Croatia last year – among all sites, not just bare ones. With two miles of sand and rock beaches, including secluded coves, lined by olive trees and vineyards, this nude beach and village are well loved by bare beach connoisseurs.
The beach is on the Istrian peninsula, 60 miles south of Trieste and five miles from Rovinj.
 Playa de Maspalomas, Canary Islands
Near Playa del Ingles, southern Gran Canaria
Hundreds of acres of sand dunes, looking just like the Sahara, frame the beautiful beach between Maspalomas and the popular resort of Playa del Ingles. It's 3 kms from one end to the other and over 1 km deep. The bare areas, like the swimsuited ones, have sunbeds and umbrellas for hire. For a quieter spot, walk into the vast expanse of dunes, but be careful not to get lost!
You can walk to the bare beach areas from either end, although the walk from Maspalomas town is slightly shorter.
Atlantic coast, north-west of Bordeaux
The south-west coast of France is almost one vast nude beach, stretching over 100 miles from Biarritz to the Gironde. Among stiff competition, the nude resort beach of Euronat stands out for its clean golden sand, supervised swimming and friendly atmosphere. Thousands of happy families gather here, and the beach is open to both nudist campers and day visitors alike. Other highly regarded resort beaches heading south are Montalivet CHM, La Jenny and Arnaoutchot.
From the seaside town of Montalivet-les-Bains, drive north on the D102 coast road. After 3 kms the road turns sharply right inland. Park and walk on to the beach – the main bare area is to the right.
 Plakias Beach, Greece
Plakias town, south-west Crete
A fabulous setting of cliffs, mountains and a huge sweep of golden sand make this beach a wonderful place for all-over tanning and fine snorkelling. The sea shelves gently, making it suitable for families, and there are showers available. Refreshments are brought to the beach in season, and umbrellas are available.
The nude area is the last section of the beach, to the left as you face the sea, and unsurprisingly it is often the most popular part of the whole bay.
 Les Grottes Plage, France
Ile du Levant, Mediterranean
This gem of a beach on the magical island of Levant is reached by an easy coastal footpath 10 mins walk from the quayside. A small natural cove of white sand slides gently into the turquoise sea, providing excellent swimming and snorkelling. The easiest way to get here is by ferry from Le Lavandou, between St Tropez and Toulon.
Seventy years ago Ile du Levant was the birthplace of nude leisure in France. Today, there is a tiny resident community and lots of holiday accommodation. Minimal clothing is normally worn in the village of Heliopolis, but the rest can be enjoyed as nature intended.
Spiaggia di Guvano
Corniglia, Italy
This small shoreline's a far cry from the Riviera's tourist-packed beaches, but well worth the short trek through a pitch-black tunnel (don't forget a flashlight) in the mountainous Cinque Terre region. You'll be rewarded with an isolated beach populated by naked Italians. Is there anything better?
Perk: You'll probably be the only tourist there.
Pit: You might fall to your death attempting to reach it.
Red Beach
Crete, Greece
While Red Beach gets its name from the rusty color of the sand, here's a better fun fact: A naked Frenchman camped out here for five years in the '90s — carving animals and faces into the limestone — until the locals expelled him for being a bit too creepy. The name of that Frenchman? That's right, it was none other than President François Hollande. JK! That'd be crazy, no?
Perk: There's a refreshment bar that serves java and suds.
Pit: The sand's a little coarse in some spots, which could do some damage (wink, wink). Bring a towel.
Paradise Beach
Mykonos, Greece
When it comes to naked party beaches, nothing tops Paradise Beach in Mykonos — the rare kind of beach that's just as fun when the sun goes down as when it's up. There are not one but TWO bars. It's one of the world's most popular gay destinations, but everyone is always welcome.
Perk: The monthly full moon party, which is just as outrageous and uninhibited as you'd expect from a nude beach in Mykonos.
Pit: The drinks at those bars aren't exactly dive bar prices. So pack your wallet… somewhere.
St. Tropez, France
The beaches of St. Tropez are famous for pioneering the topless sunbathing craze of the '60s, and Plage de Tahiti's no exception. It's also a well-known celebrity haunt, so leave the camera at the hotel (but bring your iPhone) and keep your eyes peeled for some famous flesh.
Perk: You might see Eva Green naked.
Pit: You'll probably see Gerard Depardieu naked.
Samurai Beach
Port Stephens, Australia
Along with the nearby One Mile Beach, Samurai's located next to Tomaree National Park and is well-maintained year round. Unlike the family-friendly One Mile, however, Samurai is entirely clothing-optional.
Perk: Making friends while playing naked beach volleyball is a distinct possibility.
Pit: It's also a distinct possibility that some of the park's wildlife could kill you.
Klampenborg, Denmark
During the summer months, Bellevue Beach becomes a hotspot for local young (read: hot) people who come from nearby towns looking to party. One half's strictly topless-optional, while the other welcomes fully nude revelers — it should be immediately clear which one's the fun half. Both!
Perk: Partying with attractive, young, naked coeds.
Pit: The music can get loud if you're not there to party, but rather to relax and secretly ogle naked coeds behind your sunglasses.
Haulover Beach
Miami, Florida
The soft sands of South Beach are what one might describe as "topless tolerant," but if you want to strip all the way down in Miami, head north to Haulover. Europeans and South Americans mix with brave locals, as the beach has become an international tourist attraction for those headed to South Florida.
Perk: It's less than half an hour from South Beach, or anywhere else you'd want to go in Miami or Ft. Lauderdale, so you can easily check it out if you're in town.
Pit: Though it's well-marked, more than a few fully-clothed beach joggers find themselves running through here, so it's not exactly private.
Hippie Hollow
Austin, Texas
This secluded corner of Lake Travis has been Texas' premiere nude beach for over 20 years, though it took some legal finagling in the 1970s to make it official. Since then it's become a popular weekend spot where Texans drink beer under the sun while boaters cruise by and wave. And in a city bent on keeping itself weird in the face of a huge development boom, Hippie Hollow is a big help.
Perk: Though open fires and glass are prohibited, alcohol and barbecuing on the beach are permitted and frequent. So day-long naked parties are the norm.
Pit: If you're a naturalist family, this beach is not for you. Only people 18 and over are allowed.
Valalta
Rovinj, Croatia
Since it's technically part of an award-winning naturist campsite, Valalta's almost two-mile beach has something most others lack: adequate shade to keep your chestnuts from roasting. There's also a pool with an aqua-bar AND a water slide.
Perk: The place has an onsite brewery, too. Seriously, Croatians just get it.
Pit: If you're lodging here, you're likely to see more of the same faces (and dangly bits) than you care to.
Majorca, Spain
The secret's out on this one, and during the peak summer months you're likely to find hoards of visitors along the white sandy shores of Es Trenc. Fortunately, the central area of the beach (the nude part) tends to be less choked than the rest, so you can enjoy the incredible beauty of the place in relative privacy.
Perk: Motorized vehicles aren't allowed on the beach, so you won't be disturbed by Spanish bros revving their 4x4s.
Pit: You'll pay through the nose at the beach bars, as well as for nearby parking.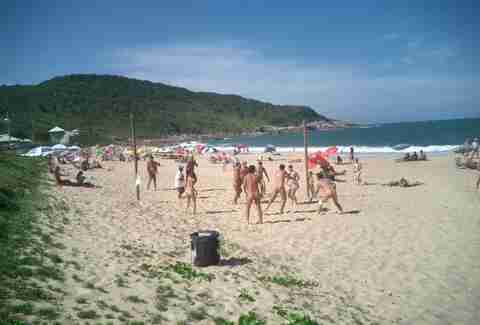 Praia do Pinho
Balneário Camboriú, Brazil
Located about 50 miles north of Florianopolis, 2013's happiest city in the world, Praia do Pinho's widely considered to be the first naturist beach in Brazil. Nudity's mandatory here, so no taking off your shirt and then being all, like, "I'm totally going to get settled in first". No, you'll have to strip down if you partake in the fun.
Perk: There's an inn and cabins for rent with ocean views.
Pit: Unaccompanied males are't allowed on the beach, unless they're members of the International Naturist Federation. As you are likely not, don't forget a female friend.
Little Beach
Maui, Hawaii
Some might argue in favor of the black sand beach at Kehena, but our pick for the best clothing-optional beach in Hawaii is along the soft white sands of Maui in a hidden, woodsy cove with big Pacific waves breaking on a turquoise shoreline. It's every bit the Hawaiian vacation fantasy, minus the bathing suits.
Perk: Though technically nudity is illegal here, it's tolerated by local law enforcement. So the nudity is kind of a secret (hence the nickname Secret Beach).
Pit: Again, it's not advertised as nude, so you may be a little shocked should you stumble upon it without warning. As happens from time to time.
Black's Beach
San Diego, California
The best nude beach on the Pacific sits just north of San Diego near Torrey Pines, where Californians flock to get line-free tans. Because of the location, it draws California beach-types rather than hippies, and feels more like Endless Summer than a beachside Woodstock. Just remember it's still the Pacific Ocean, so while being naked might be liberating, it can be a little chilly.
Perk: Best surf breaks of any nude beach, anywhere.
Pit: Nudity is only legal on the state-owned portion of the beach. The city outlawed it back in 1977, so make sure you walk up to that point before stripping down.
Wreck Beach
Vancouver, Canada
Located on the western end of Vancouver, Wreck's the oldest and largest clothing-optional beach in North America — it was even nominated to be one of the "Seven Wonders of Canada." It doesn't get too packed (thanks to no road access), but there are vendors who wander the shore selling everything from booze to tie-dye T-shirts. The vendors, like everyone else, are semi-to-fully nude at all times. Consider this either a plus, or a minus.
Perk: Much like your popular Bastille-Meets-Boxing Day bash, you can score jello shots with little difficulty.
Pit: Let's be honest, the climate isn't exactly tropical; you are in Canada, after all.
Sandy Hook, New Jersey
The National Parks system is one of our great American treasures, and perhaps nowhere can we appreciate it more than here at the largest clothing-optional beach on the East Coast. This former Army testing site is now managed by the NPS, and therefore exempt from New Jersey's state laws outlawing nudity on beaches. In addition to human scenery, it's close enough to NYC to offer stunning views of Brooklyn and the Verrazano Bridge.
Perk: Since it's on federal land, alcohol is totally permitted on the beach. So drink up?
Pit: With its proximity to NYC and location in an area where going to the beach is a seasonal activity, it can get mad crowded. Over 5,000 people a weekend visit during the summer, which is a lot of flesh with or without clothes.