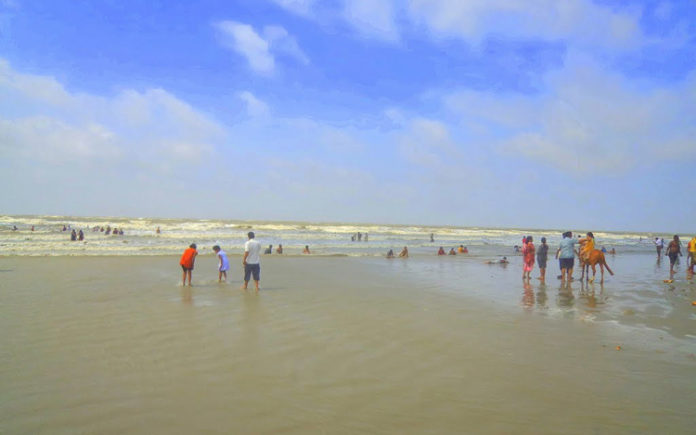 Bakkhali is a seaside resort in South 24 Parganas district of West Bengal. It is located on one of the many deltaic islands spread across southern part of Bengal. Most of the islands are part of the Sunderbans, except a few at the fringes. Some of these are joined together with bridges over narrow creeks. This small island juts out into the vast expanse of the Bay of Bengal. The place remains as a popular tourist destination for quite a long time. The development of the barge over the Hatania-Doania River, has made Bakkhali more and more accessible for the people. With the passage of time Bakkhali has changed a lot. The development of transport and communication system truly makes Bakkhali an ideal getaway for weekends.
Places to see at Bakkhali: There are quite a lot of attractions in Bakkhali like the windmills of Frasergunj as well as the crocodile propagation centre at the place. The narrow path that enters into the casuarinas forest lying adjacent the beach will lead you to the temple of Banabibi, a local deity.
Nearby attractions from Bakkhali: Bakkhali offers so many places of attractions that are located nearby like the Henry's Island which was created by the State Fisheries Department. Frasergunj, the twin town of Bakkhali can be visited on a day trip.
Things to do at Bakkhali: Sightseeing is the best thing that you can do in Bakkhali. Take a walk over the beach from Bakkhali to Frasergunj and enjoy solitude. Plus, you can also take a look at the daily life on the villages and experience the different rhythm of life these villages live in.
Best time to visit Bakkhali: You can visit Bakkhali throughout the year.
How to go ?
You can board a bus from Kolkata (Esplanade) till Namkhana and then a ferry ride across the Hatania-Doania River. Then you have to board another bus to reach Bakkhali. However, you can also board direct buses to Bakkhali from Kolkata. You can also reach Namkhana by train from the Sealdah station. By road, you have to travel through Diamond Harbour and Kakdwip to reach Namkhana.
[AdSense-B]
Where to stay ?
You can stay at the West Bengal Government Tourist Lodge. For booking details please contact:
Address: 3/2, B.B.D. Bag (East), Kolkata – 700 001
Phone : +91-033-2243 6440, 2248 8271 Website: www.wbtourism.gov.in
Ben Fish also has a tourist lodge in Bakkhali. For booking details you may contact:
Address: P161/1, (4 th Floor) V.I.P Road, Ultadanga, Kolkata – 700 054.
Phone: +91-033 2355-4931 Website: www.benfish.info
You can also visit this site For more Hotels:
http://hotels.tripsaround.in/accommodations/west-bengal/bakkhali/all

Note : Phone numbers given above are according to the information available with us. If you find any contact number/s given above is/are incorrect or not in use, please let us know.