Emergency services in Italy are continuing to search for survivors at the site of a bridge collapse in the port city of Genoa that killed at least two dozen people and injured many others.
The bridge, which is on a major highway, collapsed yesterday during a sudden, violent storm, sending vehicles plunging 45 metres into a heap of rubble below.
Authorities from the Liguria region raised the death toll to 26 after more bodies were extracted and one of the 16 injured died in surgery.
Italian Prime Minister Giuseppe Conte called it "an immense tragedy … inconceivable in a modern system like ours, a modern country."
The head of the country's civil protection agency, Angelo Borrelli, said all of the victims appeared to have been in vehicles that plunged from the bridge.
Hundreds of firefighters and emergency officials were searching for survivors in the rubble with heavy equipment.
At least four people were pulled alive from vehicles under the bridge, Italian news agency ANSA reported.
"We are still trying to extract survivors from the rubble," Genoa police official Alessandra Bucci said.
"We hope to find more people alive."
There was initial confusion over the exact death toll.
35 people were probably killed, citing fire brigade sources, while the Genoa mayor put the death toll at 25.
Mr Borrelli said 30-35 cars and three heavy trucks were caught up as an 80-metre stretch of the bridge collapsed.
"We need to remove all of the rubble to ascertain that all of the people have been reached," Mr Borrelli said, adding that more than 280 rescue workers and sniffer dogs units were at work.
"Operations are ongoing to extract people imprisoned below parts of the bridge and twisted metal."
One man who was standing under the bridge in front of his truck when the span collapsed called it "a miracle" that he survived.
The middle-aged man, who did not give his name, said he was sent flying more than 10 metres into a wall, injuring his right shoulder and hip.
"I was in front of the truck and flew away, like everything else," he said, walking away from the site.
"Yes, I think it's a miracle. I don't know what to say. I'm out of words."
Motorist Alessandro Megna told RAI state radio he had been in a traffic jam below the bridge and saw the collapse.
"Suddenly the bridge came down with everything it was carrying," he said.
"It was really an apocalyptic scene, I couldn't believe my eyes."
Mr Borrelli said authorities were still trying to figure out the reason for the collapse.
The highway operator said work to shore up the bridge's foundation was being carried out at the time of the collapse, adding that the bridge was constantly monitored.
How did the structure collapse?
It fell around 11:30 local time (09:30 GMT) during heavy rain. Police reported a violent cloudburst.
"We saw lightning strike the bridge," eyewitness Pietro M all'Asa was quoted as saying by Ansa. "And we saw the bridge going down."
Engineers say it is too early to determine the cause of the collapse but that lightning is unlikely to be the reason.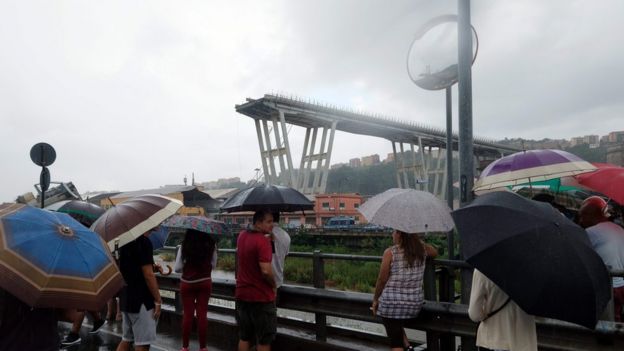 Another witness, unnamed, recalled: "We heard an incredible roar and first we thought it was thunder very close by.
"We live about 5km [three miles] from the bridge but we heard a crazy bang… We were very scared… Traffic went completely haywire and the city was paralysed."
'Those responsible will have to pay'
Italy's Transport Minister, Danilo Toninelli, said the disaster showed the dilapidated state of Italy's infrastructure and a lack of maintenance, adding that "those responsible will have to pay".
"We are following minute-by-minute the situation of the bridge collapse in Genoa," Interior Minister Matteo Salvini said on Twitter.
The disaster happened on a highway that connects Italy to France, and northern cities like Milan to the beaches of Liguria.
It came on the eve of a major Italian summer holiday on Wednesday, which means traffic was heavier than usual as Italians travelled to beaches or mountains.
The Morandi bridge is a main thoroughfare connecting the A10 highway that goes toward France and the A7 highway that continues north toward Milan.
Inaugurated in 1967, it is 90 metres high and just over a kilometre long, with the longest section between supports measuring 200 metres.
The collapse of the bridge comes eight days after another major accident on an Italian highway, one near the northern city of Bologna.
In that case, a tanker truck carrying a highly flammable gas exploded after rear-ending a stopped truck on the road and getting hit from behind itself, leaving one person dead and dozens injured.