West Bengal has now edged past the 'Bimaru' states in terms of child marriages, with the state having the highest incidence of girls aged 15-19 years being married off. far ahead of states such as Rajasthan that one traditionally associated with child brides. Better education and higher incomes have ensured that incidence of child marriage has come down in India. Some states, like Bihar, Rajasthan, Jharkhand and Uttar Pradesh, have done remarkably well — in UP only 6.4% girls between 15 and 19 are now married. But states like Bengal have shown tardy progress.
Owing to better education and higher incomes, child marriage in most states in India has seen a steady decline, but some states, like West Bengal, have fared poorly in reducing child marriages.
The findings of the National Family Health Survey-4 (NFHS-4), conducted in 2015-16, show a steady decline across states, barring a marginal rise in two states – Himachal Pradesh and Manipur. The national average for child marriages now is 11.9% of all girls aged 15-19.
According to NFHS-4, which was conducted in 2015-16, Bihar, Jharkhand, Rajasthan, and Uttar Pradesh have all managed to successfully bring down child marriage prevalence rates by almost 20 percentage points.
In UP, only 6.4% of girls aged 15-19 years are married off now.
In contrast, Bengal managed a reduction of only 8.4% in the same period, and now stands above the 'Bimaru' states.
Bengal: Bengal has a child marriage prevalence rate of 25.6%
Bengal now has a child marriage prevalence rate of 25.6% – considerably higher than the national average of 11%.
Following in Bengal's footsteps are Bihar (19.7%), Jharkhand (17.8%), Andhra Pradesh (16.6%), and Rajasthan (16.2%).
In terms of district-wise prevalence of child marriage, Murshidabad (39.9%) in Bengal tops, followed by Gandhinagar (39.3%) in Gujarat, and Bhilwara (36.4%) in Rajasthan.
Urban India does better than rural
Not surprisingly, child marriage is far more prevalent in rural areas – for rural areas, it is 14.1% on an average, while it is 6.9% in urban India. It is also directly linked to income – the more educated and well-off the girl's family is, the less likely it is to marry the child off.
States with large urban pockets of child marriage
41% Haryana

37% Tamil Nadu

33%Maharashtra
The highest prevalence of child marriage is reported amongst Scheduled Tribe girls (15%) followed by Scheduled Castes (13%). However, amongst the top 10 states with highest prevalence of child marriage, it cuts across caste groups. For instance, in Maharashtra, 38% of child brides — the highest percentage — belonged to forward castes.
The rich fare better than poor
(Average prevalence of child marriage by income group)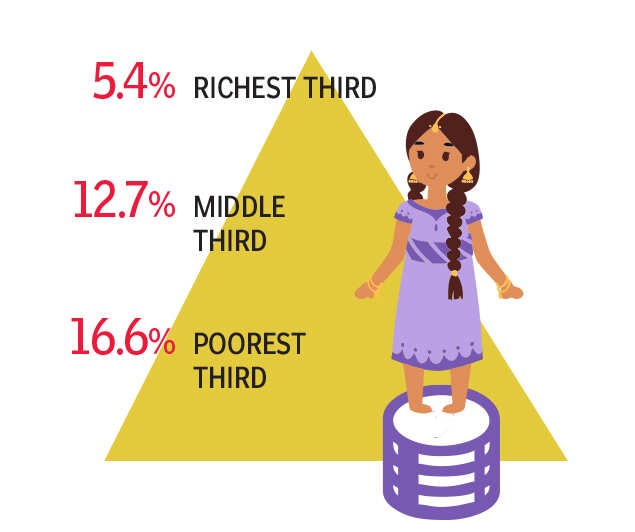 Education helps, too…
(Average prevalence of child marriage by education level)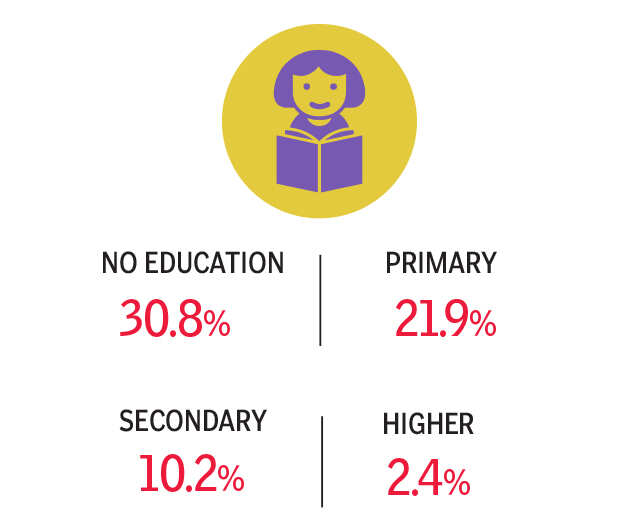 The problem though, is teenage pregnancy
Most child marriages result in teenage pregnancy due to societal pressure and lack of knowledge on family planning. Almost one in three girls who get married off between 15 and 19 years, end up having babies while they are still teenagers themselves. Almost a quarter of them had a child by age 17, and 31% by age 18. This, virtually eliminates any chance the girl would have to study and become self-sufficient.
Share of first births among girls who were married young (by age)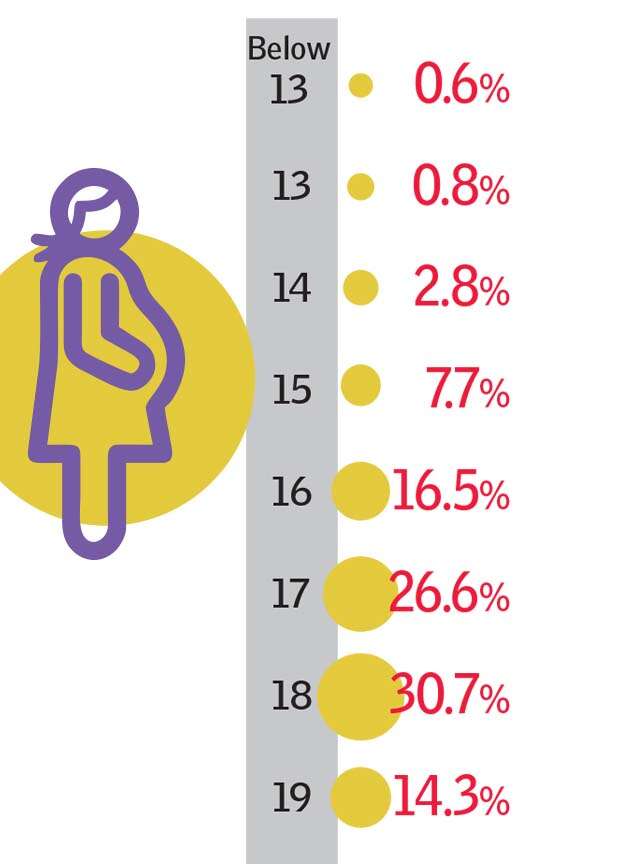 States with the highest teenage pregnancy cases
64% Goa
61% Mizoram




53% Meghalaya
NFHS-4 data shows that almost one in every three child marriages results in a teenage pregnancy.
Almost 25% of such girls end up having a baby by the age of 17, while 31% have a baby by the age of 18.
This essentially eliminates any chance of the girl pursuing higher studies and becoming self-sufficient.